---
Client: Madison House Autism Foundation
Cause: Social Justice
Project Type: Documentary Series
Runtime: 2-7 min
Year: 2017
One of the challenges Madison House Autism Foundation faces is the relative invisibility of the issues adults with autism face in our currently inadequate system. As part of the 2017 Autism After 21 Campaign, Madison House asked me to produce a series of mini-documentaries on behalf of the foundation which would intimately introduce the people behind the diagnosis to users on social media during the month of April (Autism Awareness Month).
The project was a massive undertaking. Ten films were commissioned with subjects located in 5 different states, all to be completed within a 4-month timeline. Despite the challenge, I felt honored to be welcomed into the homes and lives of those who's stories I was entrusted with.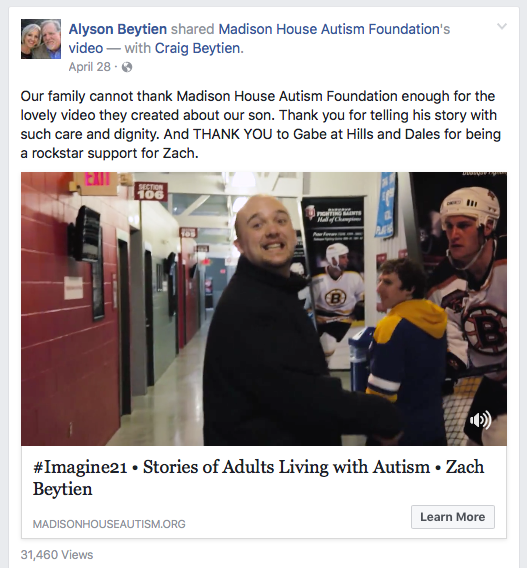 In capturing these stories, I knew the vulnerable space that the subjects and their loved ones were being asked to fill and that I needed to make that space safe. Part of that endeavor meant that I was going to need to be flexible and very present as I captured interviews and daily life.
Many of the subjects in these films are non-verbal or have limited means of verbal-communication which required a deeper level of attention and a certain gentleness in order to recognize the more subtle, quieter means of communication. It was a beautiful challenge to figure out how to best represent voices that do not speak a language most of us tend not to understand.
It was a very special experience to get to know each one of the #imagine21 subjects in the time I spent with them. Andrew, featured above, started out a little unsure about me. Over the course of our time together, however, Andrew grew fond of me (as I did him). On the last day he took my hand and held it and asked me if I would be back the next day. That's when I knew he had grown to trust me.
The outpouring of thanks from each of the families featured after the films helped assure me that I had handled their stories with care. The series got over 100,000 views over the course of the Facebook campaign and will be utilized in an Autism conference at NIH this July. It is being entered into festivals. Check out the whole series!